Social, Moral, Spiritual, Cultural
As a school we are committed to providing a wide range of experiences that enhance our curriculum and encourage our pupils to think about the wider world and the bigger, deeper questions. We aim to provide experiences that develop awe and wonder and encourage the children to want to know more.
St Edmund's Parish and Primary School in Bungay have taken a big stride towards being more environmentally friendly with the launch of 20 photo-voltaic panels on the roof of the parish and school hall, reports Mary Kirk.
---
Telling pupils about the project on May 3, parish priest Fr Charles Fitzgerald Lombard quoted teenage environmentalist Greta Thunberg who holds the older generation responsible for the catastrophe of climate change, and said that the installation of the panels was a gesture on the part of the parish towards putting its house in order.
The initiative grew from a plea from some members of the Parish Pastoral Council that the parish should live more simply and reduce its carbon footprint, and at the same time help the children at the school learn about the problems facing the environment, and reflect on their own and their family's way of life.
Headteacher Samantha Barlow said: "We are all really excited to be part of an eco-friendly school project, and we'll definitely be encouraging the children to be more eco-friendly themselves and look at other ways of helping the environment."
The scheme was made possible by the parish's participation in the Diocese of East Anglia scheme Alive in Faith which raised funds for the development of the diocese and its parishes. The firm Green Bricks of Diss surveyed the hall and suggested using an advanced technology to maximise effective heat capture, and ensures that if one panel fails it does not interrupt the working of the others. In normal use the system has a generating capacity of 5.3kW, and over 20 years will save 56 metric tonnes of CO2 emissions from damaging our world.
Also present at the assembly was Parish Pastoral Chair Shirley Kalinauckas, who encouraged the children to get their parents to save energy, and – amongst other things – turn off equipment which is left on stand-by.
Pictured above, Shirley Kalinauckas, Fr Charles and head teacher Samantha Barlow with the PV panels in the background on the hall roof.
WELL DONE LINDISFARNE! We won the house point competition last term and had our reward afternoon on Friday 27th April. We had an art theme and, inspired by contemporary artists like Jackson Pollock, we created our own modern art masterpieces. We had a fantastic time and want to say a huge thank you to Finley and Arabella's dad for the paper and to all Lindisfarne parent's for sending in old clothes so we could really enjoy the painting process. See photos below:
On 19th April years 3 and 4 had a fantastic morning learning all about their teeth and how to care for them. We even had special tablets that showed us where we needed to brush our teeth better and then we learnt how to brush our teeth properly!
On Wednesday 14th March the staff and children of St Edmund's participated in Rare Disease day 2018. The children were encouraged to be a zebra for the day of wear black and white clothes to raise awareness of rare diseases in the Uk. The total raised was £90.00.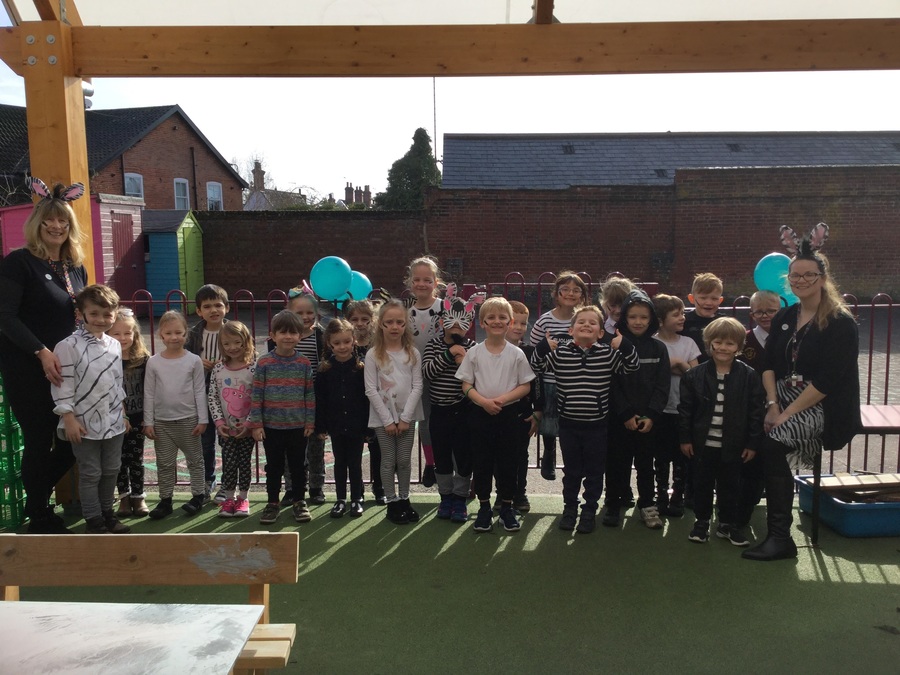 March 2018 We had great pleasure celebrating with Father Charles as he reached 50 years of being a priest. The children read poems, reflections and asked him lots of questions about his life. All classes made some portraits of him. Thank you Father Charles for being our priest and letting us celebrate with you.
January 2018 - We welcomed the Ignite team in for an Epiphany retreat day for both Key Stage 1 and Key Stage 2. The children were engaged in song, drama, prayer and personal spiritual development.
We have lots of fun today celebrating and learning about St Edmund. We had a whole school mass this morning where children read the readings, did the bidding prayers, which they had written, and served Father Charles. We have made crowns, Suffolk buns and have been learning about St Edmund and his deep faith in God. We have been inspired to think more deeply about our own Faith and Beliefs.
Years 4, 5 and 6 visited Norwich Cathedral, where the scale and sense of history filled the children with awe and wonder. We were greeted in a traditional Benedictine way by one of the children having their feet washed! We pretended to be Benedictine monks (who first inhabited the Cathedral) and learnt to song Plainsong.
Converting media.
(Media will continue converting in the background)
We saw the scale of the building, built arches, looked at the decorated bosses and learnt to write with quills.
We followed the tradition of the monks and were silent for prayer each hour we were there. We walked the cloister where the monks worked, store resources and relaxed. We saw old stained glass windows and more modern ones. We pondered the question a modern artist had set with a trio of windows representing the Father, Son and Holy Spirit - which one is which? Which one do you think is which?
Year 4 and 5 getting ready to perform Livin' on a prayer to the rest of the school. They worked hard at rehearsing together and supported each other to make the performance great. Well done year 4 and 5!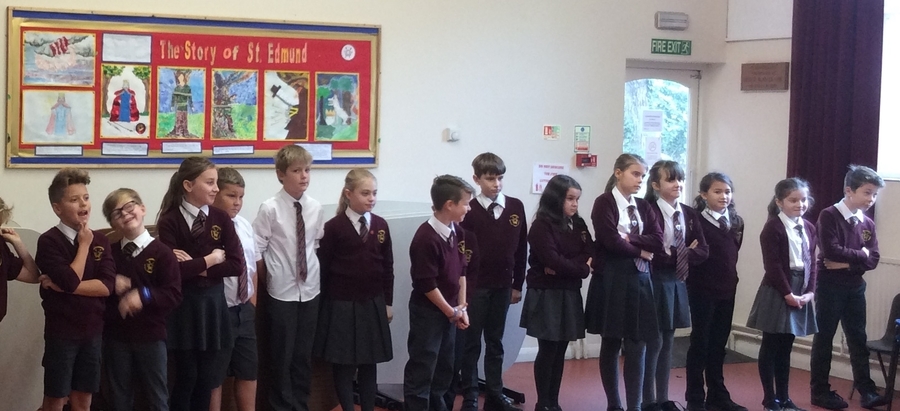 Our Peer Mediators underwent training in the first few weeks of term and are now working alongside staff at break and lunchtimes to help with disputes. They are doing fantastic job, with younger pupils regularly talking to our Mediators and solving problems with them. Well done.
We had a visit from Peter Aldous MP for Waveney and Mr Mark Bee from Suffolk Town Council as an introduction to Democracy Week. They explained lots about their role and answered some questions from the children. It was a really informative session and the children really enjoyed it.