Walk around Bungay 2019
Class 3 found lots of interesting buildings during our walk around Bungay and we have started to research when some of them were built, their original purpose and what they are now used for. This is helping us to understand some of the historical events in Bungay and the impact they had on our town. Below are some of the interesting buildings we saw.
Happy New Year and Welcome back to class 3!
Welcome back class 3 to 2019! We hope that you have all had a fantastic Christmas and thank you all for your kind wishes, cards and gifts. We have already had a busy start to term and have several exciting events planned. Please make sure that you are reading to an adult at least 3 times a week and that you are practising your times tables, spellings and are completing your homework on time. Please find below the curriculum map, newsletter and project sheet for this term. If you have any questions, concerns or can spare an hour or two to help in class please do come and talk to myself or Mrs Talbot. We wish you all a very Happy New Year. Mrs Curtis
Welcome to Class 3 2018-19
Welcome back to school. What an amazing and busy few days we have had already! We have taken a walk down to the Staithe as part of our topic work on the River Waveney, we are preparing for our Mass on Friday and our school trip to Sutton Hoo next week. All of the children have settled back into the school routine well and are using their learning powers well. I am looking forward to an exciting year. Please find below our current newsletter and curriculum map for the Autumn term. Any questions please do come and see me. Mrs Curtis
On 18th May year 4 joined other schools in the MAT for a Pentecost retreat day. We had great fun learning about the Holy Spirit and God's love. Our year 4's shared their fantastic knowledge with other children and were brilliant representatives of our school. We are incredibly proud of you. A few of our photos from the event are shown below.
On Monday 23rd April, some of our grown ups joined us for an afternoon of Science. Year 4 and Year 5 had to design an experiment to find out about germination. We have bean seeds 'watered' in coffee, milk, tea and water; we have bean seeds in the dark and light and some on cotton pads. We made predictions and will be monitoring the beans to see which seed grown first and which grows the largest. We had great fun!
Welcome back to the Summer term. Please find below copies of the Summer Newsletter and Curriculum map for our Science challenge and a copy of the mini-project for the Summer term...
Year 4 and 5 have been learning about Holy Week this week and as part of our learning we have made animations about the Last Supper which you can watch below. Some more will follow shortly.
Wow! Year 4 and 5, despite all your coughs and colds and sore throats, you were amazing in our class assembly yesterday! We are very proud of you. Well done!
How quickly this half term seems have to gone! We have had snow days, World Book Day, Rare Disease Day, our service of Reconciliation and our Class Assembly is tomorrow. We have found time to be reflective as well. We have looked at the stations of the cross and have created our own interpretations of the Stations of the Cross which can be viewed in our school hall.
14th November 2017
Class 3 used a range of computing and Scientific skills when they used I-pads to create animations to show how the moon moves around the Earth. We were pleased with the results, although our even better if would be to make the animations a little longer! We hope you enjoy watching them.
3rd November 2017
We have had a fantastic day at Norwich Cathedral, learning about the people who built it and the monks that lived there. We had a taste of what it would have been like to be a monk - stopping every hour for quiet reflective prayers lead by the priest on duty. We learnt to write with a quill and to sing plainsong. It was an amazing day and the people at the cathedral were very impressed with you all. Well done.
To see some more of the pictures please visit the SMSC page of our website.
2nd November 2017
Class 3 have had an exciting few days back after half term. We have built forest biomes (Taiga, Temperate Deciduous and Tropical Rainforest), performed Livin' on a Prayer to the rest of the school and Year 4 have had Mike from One Life Suffolk in to talk about our digestive system. We are looking forward to the rest of the term especially our trip to Norwich Cathedral.
Welcome back class 3! We have had a full few days already and have come back with excellent learning behaviours. We have lots planned for the first half term and are looking forward to the new learning journey we are starting. If you have any questions or can offer an hour or two of your time to help with readers or in some other area you feel you could assist with, please do not hesitate to talk to Mrs Curtis, Mrs Taylor, Mrs Wilson or Mrs Short or Mrs Barlow.
A huge well done to our year 3's who represented us at Matball this week. We came second out of eleven. Well done!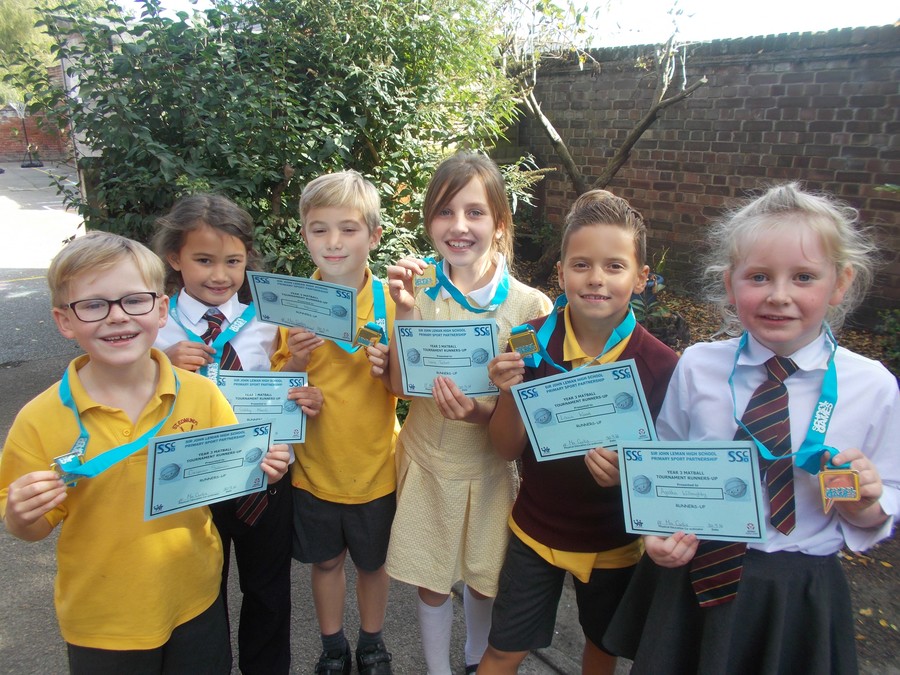 Welcome to Class 3 2016-17
Your class teacher is Mrs Curtis with Mrs Hardwick as your class TA. Our Autumn topic is Vikings and we have lots of activities planned covering history, art, music and geography. Please remember to bring in your reading books and diaries daily. Please also remember your named water bottles and PE kits. Homework will be set weekly and if you are unsure of what you need to do please check with Mrs Curtis or Mrs Hardwick. Below are some of our photos from our Viking 'launch' day.
Sutton Hoo Visit 8/1/16
Class 3
Welcome to Class 3!
Here we will keep you informed of everything we are doing and learning about in our class.
Rainforest drama and dance.
Have a look (above) at some photos of our dance and drama workshop which took place on the last day of half term. Videos of the children's performances to follow!
Summer 1 / 2016
Rainforests
Class 3 are really enjoying our Rainforest Topic. They arrived at school on day 1 to discover our classroom had been transformed into a tropical rainforest with plants and creatures around the door and more inside the room.
Literacy has been focused on Persuasive writing. They had to convince a panel of judges (Class 2) why their rainforest creature should be chosen to represent the Amazon Rainforest emblem. This gave them a really good understanding of types of language and how to use them. They consolidated this by persuading me to let them have 5 extra minutes of play time! They deepened this understanding by creating posters (they chose how) to persuade people to help end the deforestation of rainforests.
Maths has focused on fractions this half term to gain a better understanding using lots of practical approaches including lego, food and cuisenaire rods. We have also been checking understanding of formal methods of addition and subtraction. More recently working practically (making Harry Potter recipes) to read a range of weighing scales and using rods of different lengths to develop their understanding of perimeter.
We have used a range of cross-curricular approaches in RE. We read about Easter and the Resurrection; Thomas; Ascension and Pentecost. We explored Pentecost through art, drama and they wrote about it in a Big Write session.
In Science we are finding out about plants of the Rainforest and will be studying the parts of a flower by dissecting them and pressing so they can then stick them in their books and label them.
During Art they studied the artist Henri Rousseau. His best known paintings depict jungle scenes, although he never left France or saw a Jungle. For DT we started sewing our bean bag frogs yesterday. This has focused on the sewing skills (threading a needle, using running stitch.) THANK YOU TO ALL THE HELPERS WHO ASSISTED WITH THIS YESTERDAY. We will finish our frogs next Friday 20th May.
I will add some photos to show you some of this fun learning next week. I'm also trying to book a dance workshop for class 3 based around tribes of the Amazon.
Spring 2 / 2016
We are well into our new topic based around the Science topic of Sound.
Literacy: We are learning about 'other worlds' Narrative Poetry - structures, terminology and practising performing poetry to an audience.
Maths: We have been using reasoning skills through a series of Maths challenges and testing theories. This has encouraged the children to think in different ways - rather than just trying to find an answer they have had to test ideas and make links in their learning. They have also had to prove their thinking using discussion and pictures / jottings. We have also revisited perimeter and area, as well as properties of 2d shapes such as angles, parallel and perpendicular lines. We are moving on to mental calculations, to encourage them to recall number facts. The class are also enjoying our 'Olympic Times Tables Challenge' during which they have to complete a certain number of multiplication and division sums, getting progressively harder. We are also going to focus on a times table each week and practise chanting, counting in steps and relating it to inverse facts.
Science: Sound = firstly we are looking at what sound is and how it is made. We will also be finding out what stops sound waves and investigating using different materials. We have a decibel monitor in our class and will be finding out what happens if sounds are further away. They are also keen to test which Class 3 is loudest - ours or St Benet's.
RE: We will be learning about Easter and how this is significant to Christians. We will be linking this learning to our Art and Literacy work considering how Jesus felt during this time.
Art: The children have already enjoyed listening to different types of music to produce art in response to it. We are going to produce some sound wave art which will look at using different approaches and medias.
Music: The children have designed and are in the process of creating their own musical instruments using junk modelling. They will also explore different sounds and pitch. They will then create sound stories.
Spring 1 / 2016
We had a wonderful trip to Sutton Hoo on Friday (8th January) to consolidate our learning about Anglo-Saxons and we were so lucky with the weather, with quite a bit of sunshine! Please have a look at the slideshow at the top of this page and see how much detail your child can remember about each photo. We had a guided tour of the Burial Mounds soon after our arrival, then had lunch followed by an Archaeologist Explorer's session and then time in the Exhibition Centre (all to ourselves).
Our 'dragons' topic this half term has been great fun, full of many learning opportunities.
Literacy: Explored characteristics of legends; read different versions of George and the Dragon; Formal reports about discovery of an egg in the school grounds (children chose newspaper reports, posters and formal letters to do this); alternative endings of known stories; persuasive arguments for dragons existing alongside humans.
Maths: Chinese dragon problem solving, position and direction, multiplication (mental recall) and formal written methods; statistics (types of graph); perimeter problem solving.
Science: Food chains, Digestion, Magnets (we had a Science week!)
Geography: Dragon lair locations in the UK; Where have dragons been found / reported; Maps, routes for the journalists.
Art: Dragon sketches, paintings, collage (a huge dragon collage using mixed media); Dragon egg designs (something the children wanted to do and explore); stained glass windows following theme of George and the Dragon.
Autumn 2 / 2015
Were the Dark Ages really Dark?
The children have been fascinated with this topic from day 1 and enjoyed learning through lots of historical enquiry. We investigated how artefacts help us learn about the past by finding out all about Sutton Hoo. They were amazed by the Ship Burial find and some children have already been to visit this wonderful (local) National Trust Site. Unfortunately it is booked up for school visits this term but I have secured a booking for the start of the Spring Term (8th January) which I will send out details of shortly.
We are in the process of setting up our own Museum in the classroom and the children have made replicas of the treasures discovered at Sutton Hoo from clay.
In Literacy we are looking at Non-Fiction writing. They have researched and created Information Cards for our Museum to go with their artefacts. We looked at Biographical writing and what it needed to look like and include. We found out about Alfred the Great and created a Biography about him (Shared Writing). The children are quite expert of how to do this. We are going to move on and look at Non-Chronological Reports.
In Maths we have been consolidating our addition and subtraction understanding. I have been challenging them with problem solving and reasoning activities. We are also looking at analogue and digital time and lengths of time. I'm hoping we also have time to look at Data and ways to present it.
In RE the children enjoyed finding out about Hinduism - how they pray and what different objects mean to them. They also learnt about the Creation story. Advent is now here so we will be thinking about this and trying to do good deeds during this period.
Autumn 1 / 2015
Batteries Included.
The children really enjoyed Science lessons using different components to create circuits and investigating which factors would change it (such as more cells or bulbs). They learnt about electrical safety and the use of appliances in the home. They also thought about the concept of conductors and insulators.
As part of Art the children drew self-portraits and considered the proportions of their features. This developed into abstract work, focusing on Pablo Picasso's art and culminated in the design and creation of masks. (You must come into the classroom to see these on display - they are wonderful!).
Linked to our topic the children were challenged in DT lessons to design a 'Light it up' project. They worked in small groups and had to think of a product which would need a light and design how they would make it (materials) and house their circuit. Of course they had some wonderful ideas including a quiz which lit up when questions were answered correctly, a disco light and a bedside nightlight To conclude this project they had to evaluate what had worked well and how they might adapt it next time.
Literacy has focused on Fiction writing and we explored how to write stories through Talk for Writing. This included lots of shared discussion about ideas for characters and settings. Followed by shared writing to develop these ideas and drafting to improve our writing even further.
In Maths we revisited number and place value, adding and subtracting numbers mentally, including missing number problems. We also looked at measurement (length) including the perimeter of simple 2d shapes. Followed by Geometry - properties of 2d / 3d shapes and using mathematical vocabulary. We made strong links to the real world and everyday objects the children brought in from home (thank you for these).
Computing was all about using Scratch to learn about variables and broadcast commands (the beginnings of programming). We used it to create games which had linked movements and sounds. This was great fun!
Music explored magical music, analysing musical elements and how atmosphere is created.
During PE the children learnt about Cricket with Mr Sofokleus and Gymnastics.
Here are some photos of the children investigating circuits.