Social, Moral, Spiritual, Cultural
As a school we are committed to providing a wide range of experiences that enhance our curriculum and encourage our pupils to think about the wider world and the bigger, deeper questions. We aim to provide experiences that develop awe and wonder and encourage the children to want to know more.
We have lots of fun today celebrating and learning about St Edmund. We had a whole school mass this morning where children read the readings, did the bidding prayers, which they had written, and served Father Charles. We have made crowns, Suffolk buns and have been learning about St Edmund and his deep faith in God. We have been inspired to think more deeply about our own Faith and Beliefs.
Years 4, 5 and 6 visited Norwich Cathedral, where the scale and sense of history filled the children with awe and wonder. We were greeted in a traditional Benedictine way by one of the children having their feet washed! We pretended to be Benedictine monks (who first inhabited the Cathedral) and learnt to song Plainsong.
Converting media.
(Media will continue converting in the background)
We saw the scale of the building, built arches, looked at the decorated bosses and learnt to write with quills.
We followed the tradition of the monks and were silent for prayer each hour we were there. We walked the cloister where the monks worked, store resources and relaxed. We saw old stained glass windows and more modern ones. We pondered the question a modern artist had set with a trio of windows representing the Father, Son and Holy Spirit - which one is which? Which one do you think is which?
Year 4 and 5 getting ready to perform Livin' on a prayer to the rest of the school. They worked hard at rehearsing together and supported each other to make the performance great. Well done year 4 and 5!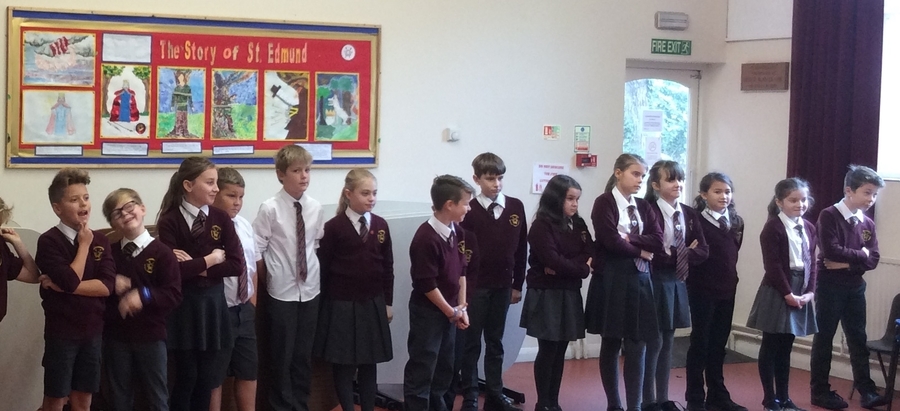 Our Peer Mediators underwent training in the first few weeks of term and are now working alongside staff at break and lunchtimes to help with disputes. They are doing fantastic job, with younger pupils regularly talking to our Mediators and solving problems with them. Well done.
Social Moral Spiritual Cultural
As a school we decided each half- term to work on the Olympic and Paralympic values. These are shared with the whole school at assembly each Monday and supported throughout the week in class with a variety of activities. Children spotted following the value of the half- term, have their achievement displayed on 'Our Values' board.
Take a look at the values below to see how we embrace them.
Autumn 1 - Friendship Spring 1 - Equality Summer 1 - Inspiration
Autumn 2 - Respect Spring 2 - Courage and Determination Summer 2 - Excellence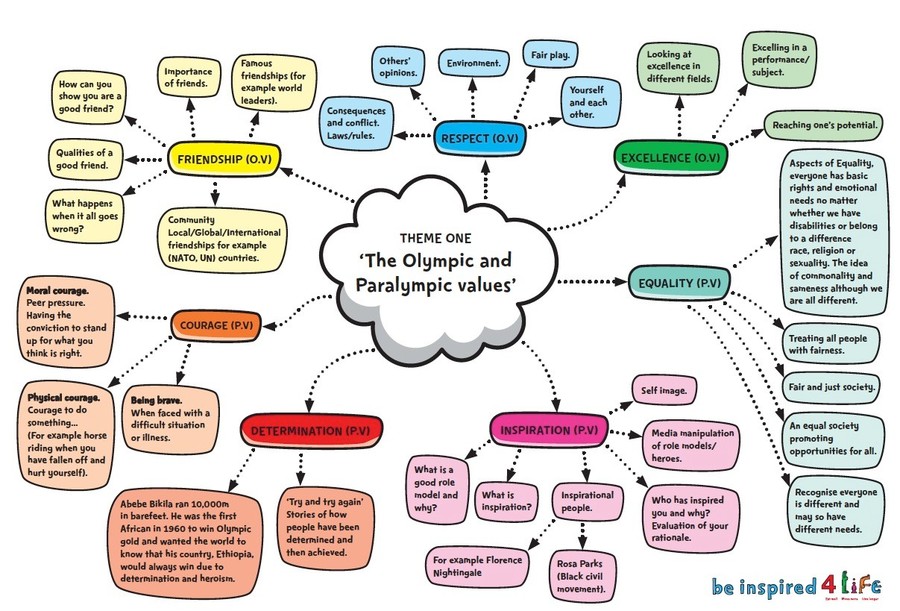 We had a visit from Peter Aldous MP for Waveney and Mr Mark Bee from Suffolk Town Council as an introduction to Democracy Week. They explained lots about their role and answered some questions from the children. It was a really informative session and the children really enjoyed it.
We had our very first 'Share' afternoon based around a multi-cultural theme. Parents and other family members were invited in for the afternoon to work with their children and 'travel' around the different countries in the classrooms. Lots of fun and learning was had by all. We had some lovely feedback from the parents such as 'Really good idea. Educational in a fun way. Great for parents to have the opportunity to spend time with their child at school'.
On Monday 23rd November Mrs Rughani (Class 3 Teacher at St Benet's) visited our school to lead an assembly on Hinduism. This made the learning meaningful and relevant to the children. She explained what her beliefs mean to her and introduced how Hindus pray and worship. This was an excellent introduction which led on to activities enjoyed by the children with their classes.